Everglades National Park
"Dedicated to fun and the experiential education of students, families and travelers from Florida, the Americas and the World"
---
Mangrove Tunnel Kayak & Canoe Tours



Great for all Ages and Experience Levels - Stable, Easy and Quiet
Reservations are Important


A Great Trip for Families
Three Hours in Duration
$99.95 Per Adult; Kids Under 12 - $59.95
Departs 8:30 am and 1:00 pm Daily

Tours Meet at the Everglades Area Welcome Center
32016 Tamiami Trail East
Everglades City, Fl 34139

June through September, the morning experiences are preferred due to the temperature, afternoon thunderstorms and convective sea breezes. More Info »
Check out this recent article from the Marco Review
and their experience on a Mangrove Tunnel Kayak Eco-Tour:
http://view.digipage.net?id=marcoreviewseason2011&page=82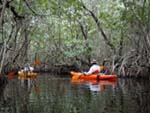 The Everglades area is a vast and varied ecosystem containing the largest mangrove forest in North America. Throughout the forest are brackish "lakes" whose waters are a mix of "sweet" fresh water and salt water. This is part of what makes the Everglades so special. These lakes, surrounded by mangroves, are refuges and nursery grounds for herons, egrets, stilts, ducks, wood storks, spoonbills, alligators, otters and a gamut of fishes. This is where the Everglades transitions from freshwater to saltwater and is a wonderful place to experience.

Interconnecting these lakes are narrow, flowing tidal creeks. The mangrove forest grows to the very edge and even over the tops of these creeks forming a canopy or a tunnel. The sunlight (or moonlight) shimmering through the canopy, the stillness of the forest vegetation and the sounds of the forest itself, make for a surreal and mystical experience in the tunnels. The dense canopy regulates moisture and humidity allowing orchids, mosses and bromeliads to thrive. A moonlight tour or sunset tour in the tunnels can be something you will never forget.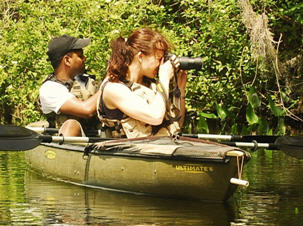 This trip is commonly conducted on the upper end of the Turner River in Big Cypress Swamp National Preserve or within Fakahatchee Strant Preserve State Park … two wonderful parts of your planet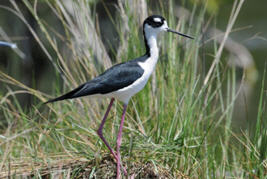 The Everglades are huge and diverse. It is not possible to experience all of its components in a single outing. The Mangrove Tunnel Kayak Eco Tour is a completely different experience in a completely different Everglades eco system than from the Boat Assisted Kayak/Canoe Tour and the Guided "Swamp" Walking Tour. However, all are important to experience to understand the multiple facets of the Everglades system. Discounted package experiences that includes these very popular tours are available. The morning Boat Assisted Kayak Eco Tour combined with the Mangrove Tunnel Tour in the afternoon is the favorite. ... Click here for more information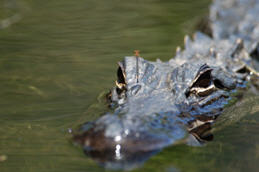 ---
---