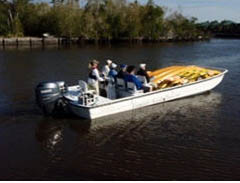 Everglades Area Tours opens the remote areas of Everglades National Park to the average person on our signature tour! Our most popular eco-adventure, the Boat Assisted Kayak ECO Tour combines the best of a boat tour, a kayak tour and a walking tour. Using a dedicated kayak transport boat you are comfortably and safely transported to some of the most beautiful and remote areas of the Park, yet you will still be back in time for lunch, dinner or another tour. Everglades National Park is one of the most spectacular parks in the US National Park System. Surrounded by the Big Cypress National Preserve, Fakahatchee Strand State Park, Rookery Bay National Estuarine Research Reserve and the 10,000 Islands National Wildlife Refuge, there is over 1.5 million flooded, pristine acres. The Park is world famous in the worlds of paddling and fishing, and people from all over the world travel to Everglades City to enjoy the area's splendor.

Every day and every tour is certainly different as each trip is tailored to the group and the natural environment of the day ... no trip is "canned" and the wildlife and the days conditions are just that … wild. However, you can expect to encounter a wide variety of the Everglade's wildlife - manatees, dolphins, sea turtles, bald eagles, ospreys, herons, egrets, roseate spoonbills to name a few. Imagine paddling next to a manatee or a dolphin!!!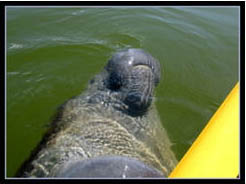 Our transport boat nestles six very stable kayaks in her bow and provides comfortable captains-style seating for maximum of six guests. With full safety equipment, satellite communications, a GPS tracking system, large sunshade and a cooler for your drinks, your guide will bring you deep into the Park in safety and comfort. Once we reach one of our many destinations, we "slow" the tour down and turn it into a "hands-on" eco-experience. VERY stable, comfortable kayaks are used to get you close to the flora and fauna … closer than by any other means. (Not to worry, no previous kayaking experience is required and we do not paddle fast or far. We have one and two-person kayaks on every tour). You will continue your interpretive experience with a walking tour on pristine barrier island beach...an island that is seldom visited by others. There is a lot to see and a lot to experience on these barrier islands...the wrack lines, shallow tidal zones, dunes, uniquely adapted plants, mangrove swamps, many different invertebrate species, lots of shells, etc. Every day and every tide is different. After your beach trek, we are back in the kayaks to paddle back the boat for the ride home in time for a seafood dinner at a local restaurant. Be sure to bring your camera!

It is not possible to experience all that the Everglades has to offer in a single outing. However, this adventure, combined with the Mangrove Tunnel Kayak Eco Tour and a Guided Swamp Walking Eco Tour, provides a Complete Everglades Experience as practical… three major pieces of the Everglades "pie". We do have a special three-tour package (discounted) for this combined experience ... CLICK HERE for more information.

Each trip is led by an experienced Florida Master Naturalist who is certified by the National Park and licensed by the US Coast Guard. As our guest, you will be presented with a wealth of information on the colorful local history of the area, as well as, it's wonderful wildlife and flora.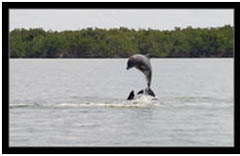 Everglades Area Tours will customize private trips for your family or group. Specific locations, timetables, camping and catering ... anything is possible, just give us a call with your ideas. However, daily, half-day trips leave from both Chokoloskee Island located just 3 miles from Everglades City and Marco Island at 9:00 am and 1:30 pm. Please plan to meet a bit early. The experience lasts approximately 3˝ to 4 hours. The cost is $149.95 person. Seating is limited, so advanced reservations are important.