3.5 hrs - Dolphin, Birding & Photo Expedition - Boat Tour
Daily Tours - 9:00 a.m. & 1:30 p.m.


Everglades City (Chokoloskee)
Naturalist Guided Eco-Expedition ~ 3.5 hrs
Limited to Six Guests - From $129.95 Per Person; Kids under 12 from $89.95 +taxes/fees
Great for all Ages and Experience Levels
Private tours are available and reservations are required.

Everglades Area Tours' Everglades National Park Dolphin & Wildlife Expeditions offer visitors a leisurely ride through the Everglades National Park's 10,000 Island coastal ecosystems.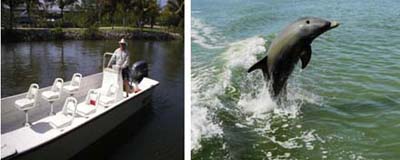 Your naturalist guide will be on the hunt for birds and wildlife of all types ... roseate spoonbills, osprey, ibis, great blue herons, tri-color herons, snowy egrets, shore birds, bald eagles; dolphins, sea turtles, manatees and other saltwater creatures. The boat, limited to six passengers with comfortable seating, is a large, stable platform for birding and photography. There is space for a camera tripod so you can bring large telephoto lenses.

The Birding, Wildlife and Photo Expedition is essentially a two part adventure. First, it is a boat exploration of the 10,000 Islands where you will learn about the Everglades ecosystems, its history and rich culture. Here you are likely to encounter dolphins, manatees, sea turtles and a plethora of different birds.

On the second part, your guide will beach the boat and take you on an interpretive stroll on one of the Park's many uninhabited barrier islands. These islands were for 1000's of years the home of the Calusa Indians and after them came settlers that carved out hard scrabble homesteads and fish camps. For the most part, the untrained eye of a casual visitor would not see the signs of these long vanished people; however, our naturalist guides can and will show them to you. Expect lots of learning opportunities in and around the tidal flats, tidal pools, wrack-lines and beach dunes. Although you cannot harvest, the shelling is deemed by most to be extraordinary.

Private Birding and Photo Experiences available. Read more ...
---